TREKKING AND CLIMBING GUIDE OF PARAMO TREK – INTERVIEW ABI GALINDO
"I am a hiker and a mountain climber," he said to his heart. I don't like the plains where I can't remain calm, that is why my destiny will always be a travel and an ascension…¨
Thus spoke Zarathustra – Friedrich Nietzsche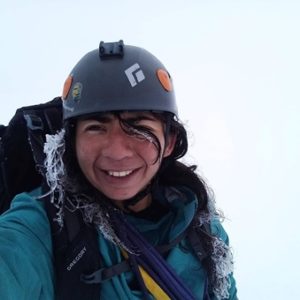 Abi was born and raced in Ibague, she major in sociology at universidad del Tolima. Because of her passion with the mountains and climbing she studied tourist guidance at the SENA. She also specialized with the CEMMAA as a lifeguard on remote places and with the AGME (colombian asocciation of mountains and climbing guides guidances techniques in Suesca – cundinamarca. Abi enjoys practicing mountain climbing, trekking and juggling. She also helps spreading knowledge about the culture of every territory ches been to. Now days Abi is a tourists guide at Paramo Trek
Abi, which are the firsts experiences you had with this sport?
When I was a little girl it was very important for my mom that I learned how to swim in a proper way, so thanks to her I practiced swimming for approximately 5 years, I also skated and did some athletics but I wasn't good with any of it. All of this happened before I turned 12 years old. When I went to middle school I tried cheerleading and because I was so flexible it was a good experience. Later, when I turned 14 years old I learned a way of juggling that uses different elements like ribbons and fire, that way I could earn some money. Then I start to climbing.
When did you find mountain climbing?
It was at the university when I found out about this sport, I practiced indoors climbing with regularity so I wanted to learn how to do it in the traditional way. At the same time I was practicing swimming and biking.
First I started climbing artificial walls, then I went to The rock of Juntas near Ibague I tried new routes and I was in love. I visited other places and then Suesca, which is a paradise to climbing, it was amazing.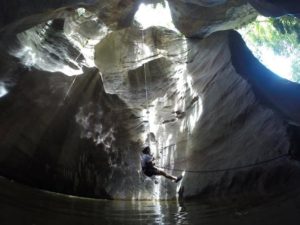 When did you find out climbing was such an important thing in your life?
It was the second time I did trekking at the Nevado del Tolima, I found out climbing a mountain made me passionate and happy, I was more conscious about my body and the importance of training regulary. It was a time full of changes, so I spent my time walking in order to easy my mind and dream about climbing mountains like the ones I read about.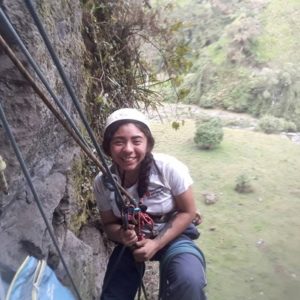 Tell us more about the first few times you climbed the Nevado del Tolima
In front of my house there was a sign of the Nevado del Tolima, I always asked my family where it was, but we never went to the place where you could saw it. It was after my 15th birthday that I first went to the canyon and the hot springs El rancho, saw the Nevado del Tolima from very close up and the longing to get there increased.
With a friend I met the Canon hot springs, a trekking much farther and stronger because they're at 4000 B.S.N. M, we went to the edge of the glacier, I was very excited to know the snow because I had only seen the snow in my home fridge (laughs), although it was difficult I realized that the emotions I felt overcome all fatigue and that I ultimately wanted to continue to know these rocks to climbing and mountains with snow, there I fell in love.
I trained with discipline while studying sociology, trekking at night in the company of my dog. The first time I walked without knowing and with very quick explanations was in the Nevado del cocuy by the hill of Pan de azucar, then I climbed to the top of Tolima by the south route on the eighth try, it was exciting, everyone got back except one partner and me. 
After traveling the snowy national park roads multiple times, why did you decide to be a guide?
After exploring the mountain alone; we did trekking several times with different friends; sharing so many kinds of emotions with them made me realize that I liked to bring people who had never been there and who also helped exercised my patience. At that time, I worked with national parks, although it was a fulfilling experience it didn't meet my expectations because I wanted to go to the snow; It's the glacier I'm passionate about.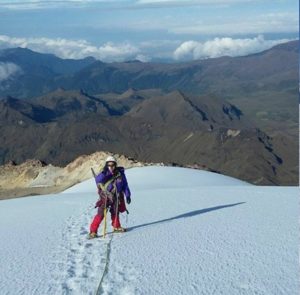 What other mountains outside of Colombia do you know?
Last year I went on a journey to Cordillera Blanca in Peru, search an amazing mountain call Huascarán (6,767 M.S.N.M) with lots of snow, granite, is steep. On the south side but it was not possible because of bad weather, equipment and organization; But it was an experience to come back later.
I recently returned from the Huascarán and made it to the top, thanks also to my companions Ricardo and Alex; Their companionship and demands; we were also fortunate enough to encounter a lifeline that gave us security placed by scientists who opened a route to field 2; however break the 6000 M.S.N. Barrier was difficult because I felt under the weather, my chest hurt, I felt suffocated, the wind was blowing hard and this gave me a lot of insecurities; but every time I thought about going back, I said to myself, "just a little more", and so step by step we get to the top.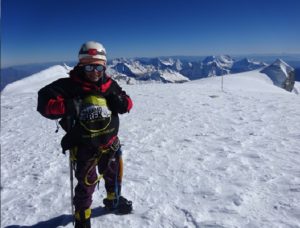 What's your long-term dream mountain?
It sounds crazy, but I think you're born to do something specific, that sometimes you get distracted as a child, for different reasons; Society, the context, but that you find yourself again and get on your way. I remember as a child watching a film called north face this film was never erased from my memory and it was an urge to read about the Alps, about Everest, but the mountain that really piqued my interest is climbing k2 or Chogori, it's the one that inspires me from the Pakistani Himalayas, it's a perfect triangle that seems to go through the sky, its difficulty is sustained because it requires a technical climb on mixed rock, snow and ice, It takes a lot of dexterity with low oxygen for altitude, I'd like to climb it without oxygen in the most autonomous way possible and hopefully with a group of colombians (chuckles) or whatever it comes in. I value this kind of climbing very much, the purpose of which is to measure you rather than achieve it, which leads you to explore on your own, to navigate and explore new routes and new forms, without oxygen and without aid that is too technological or too modern.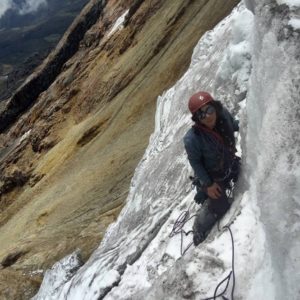 Finally, tell us a lesson or a memory of your walks
says a great friend Alex Chavez, that the mountain does not give away anything and even though there was the ease of a new, less dangerous road with fixed ropes, the lack of oxygen, the flu and the difficulty of breathing in the Huascarán taught me quite a lot, how strong or weak you can become and how much depends on your attitude to obstacles, against wind or any problems, no summit as easy as you might think it is, It gets to be.
What is experienced in climbing is only understandable to those who were there with you living it, all the peaks we reach are born of a dream (sometimes Shared) and are given after a struggle, a great will, resistance and discipline, 1,000 more steps up make the difference than 10,000 down. The training you must prioritize is your mind not to abandon, despite difficulties, learn to continue enjoying the landscape.
Right now I want to keep guiding to do it professionally. Paramo trek has been an important and helpful experience as it has helped me perform this beautiful work and supported me in this project that I have for my life.
I prioritize experience over saying, "I did this or that," "I was here or there," I think the essence is that experience that you have that transforms you, that teaches you and that shows you the essentials of life, that we are part of nature. This experience also comes from what you learn from those who climb, from their particular ways of seeing the mountain and life with whom you often share the best and most intense dawns.